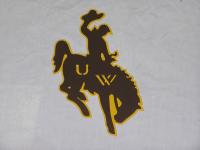 Welcome to Art 2 Metal, we are glad you are here. We are a small, privately owned company nestled on the river banks of the Bear River in the heart of Evanston, Wyoming. The quiet western setting is an inspiration to us and our work and we hope it is for you as well. Our work is rewarding and we enjoy the ability to personalize art work by using several different gauges of steel, that are great for either indoor or outdoor depending on the size of the piece. You can also choose from a variety of colors or just have it done in a silhouette. We can also torch color items and give them a unique rainbow effect. The Wyoming Cowboy you see pictured in the art work is a Licensed Product which we are approved to make and sell.

Art 2 Metal is looking to grow, and, with the help of our old and new friends, we can do it. We make wall art, yard art, garden signs, key racks, magnets, house signs, almost anything you can imagine. If you have an idea, let us help you to make it come true. We will be continuously adding new items to our site.

Thank you for visiting and we hope to hear from you soon.

Please allow 2 to 4 weeks for on special order items. The shipping on the checkout page is a guide only. We will do our best to ship the cheapest way possible. Thank-You.


---